心理治療師 . Fanny Ko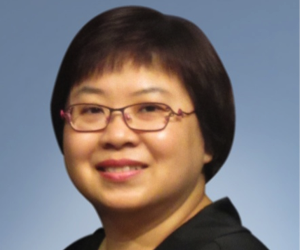 Fanny KO 高月芬
專業資格
體感治療師 (美國體感治療創傷協會) (Somatic Experiencing Trauma Institute)
成人和兒童生命自覺 (Focusing) 培訓導師 (美國國際生命自覺協會)
全身生命自覺 (Wholebody Focusing) 導向治療 (美國國際生命自覺協會)
自我狀態 (Ego State) 治療師(國際自我狀態治療協會)
系統排列 (Systemic Constellation) 導師(美國Human Systems Institute)
整全體感心理 (Integral Somatic Psychology) 治療師(香港全人中心)
NLP 專業執行師 (香港專業效能管理)
註冊社工 (港社會工作者註冊局)
註冊護士 (香港護士管理局)
註冊助產士 (香港助產士管理局)
學歷
香港大學「社會工作學」碩士
英國伯明罕大學「健康及醫院管理」碩士
香港理工大學「護理學」進修文憑及榮譽學士
香港大學專業進修學院「成人教育及培訓」文憑
其他訓練
感動治療 (Accelerated Experiential Dynamic Psychotherapy) (心理衛生會)
自殺的預防和治療證書課程 (香港大學自殺研究及預防中心)
哀傷輔導 (香港大學行為健康教研中心)
沙維雅模式 (Satir Model) (香港大學行為健康教研中心)
兒童心理健康證書課程 (香港大學校外課程)
兒童為本遊戲治療 (香港中文大學專業進修學院)
OH卡專業證書課程 (香港OH心理學院)
個別治療範圍
童年創傷
壓力管理
情緒問題
人際關係
哀傷輔導
無病因之身體症狀
意外受傷 (包括跌倒、小車禍)
身體或情緒受虐
目睹意外/ 暴力事件
為手術作準備
個人簡介
高女士是一位經驗豐富的培訓師和身心治療專家。她對包含身體反應的心理治療非常感興趣,自2008年以來,一直不斷跟體感治療(Somatic Experiencing, SE)和生命自覺 (Focusing) 多位大師學習。2012年成為體感治療師後,她開始協助SE的培訓,並於2016年被認可,能為SE學生提供督導。關於生命自覺,她在2014年獲得培訓師認證。
除了深信身體智慧於療癒過程的重要性,高女士還接受了許多其他治療方式既廣泛且深入的培訓,當中包括感動治療 (Accelerated Experiential Dynamic Psychotherapy , AEDP),系統排列 (Systemic Constellation),身心語言學 (NLP) 和沙維雅模式(Satir Model)等。經過十多年的實踐,她整合各種療法,成為她獨特的身心靈治療方法,既有效,也令來訪者能較輕鬆地面對和改善自己的問題。
高女士還具有護理背景,她有10年在兒科病房工作,另加10年在行政職位工作,負責質素管理和員工培訓。在2004年,因接受輔導後受益匪淺,她轉而投身目前專業,渴望實踐自己的人生使命,為世界帶來更多和平、希望和歡樂,並支持其他人發展自己的潛能。
 
Professional Qualifications
Somatic Experiencing® Practitioner (Somatic Experiencing Trauma Institute, USA)
Focusing Trainer for both adults and children (International Focusing Institute, USA)
Wholebody Focusing Oriented Therapist (International Focusing Institute, USA)
Ego State Therapist (Ego State Therapy International)
Systemic Constellation Facilitator (Human Systems Institute, USA)
Integral Somatic Psychology Therapist (Whole Person Centre, HK)
NLP Practitioner (Professional Effectiveness Management Institute, HK)
Registered Social Worker (Social Workers Registration Board, HK)
Registered Nurse and Registered Midwife (Nursing and Midwives Board of HK)
Education
Master of Social Work (University of Hong Kong)
Master of Science (Health & Hospital Mgt) (University of Birmingham)
Bachelor (Hon) & Diploma of Health Science (Nursing) (HK Polytechnic University)
Diploma in Adult Education and Training with Distinction (HKU: SPACE)
Other Training
Level I-III Accelerated Experiential Dynamic Psychotherapy (AEDP) (Mental Health Association of Hong Kong)
Certificate Programme on Suicide Prevention and Treatment (HKU: Centre for Suicide Research & Prevention)
Training Courses on Anticipatory Grief, Bereavement Counselling & Traumatic Bereavement (HKU: Centre on Behavioral Health)
Therapy in the Satir Model (HKU: Centre on Behavioral Health)
Certificate in Child Mental Health (HKU: SPACE)
Child-centered Play Therapy (CU: Continuing Professional Education)
Professional Certificate in OH Cards Facilitation (HK Institute of OH Psychology)
Scope of Individual Therapy
Childhood trauma
Stress Management
Emotional problem
Relationships problem
Bereavement counseling
Physical symptoms with no apparent cause
Injury by accident (including falls, minor car accident)
Physical or emotional abuse
Witnessing accident / violence
Prepare for surgery
Description
Ms. Ko is an experienced trainer and expert in Somatic Psychotherapy.
She has vast interest in body-oriented psychotherapy. She has kept on learning from various masters in Somatic Experiencing (SE) and Focusing since 2008. After qualified to be a SE Practitioner in 2012, she started to assist training in SE and was qualified to provide supervision to SE students since 2016. Regarding Focusing, she was certified as trainer in 2014.
In addition to deep belief in body wisdom, Ms. Ko has received both extensive and intensive training in many other treatment modalities, such as AEDP, Systemic Constellation, NLP and Satir Model. After more than 10 years of practice, she is able to integrate different approaches to become her unique holistic way of working with clients.
Ms. Ko also has a nursing background, with over 10 years working in paediatric field and another 10 years in administrative position, responsible for quality management and staff training. It was in 2004, after benefited a lot from receiving counselling, she changed to her present career. At that time, she was aspired to pursuit her life mission of bringing more peace, hope and joy to the world, as well as to support other people to develop their own potentials.